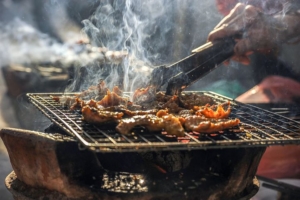 Spring Picnic, Plant & Fish Sale
May 21, 2017 @ 11:30 am

-

3:00 pm
This annual event is reserved for MWGS members. It's a great opportunity to socialize with other MWGS members and also pick up some plants and fish at rock bottom prices, with all proceeds to benefit MWGS programs.   Make sure you bring something to share – food, plants and fish!  New this year – great prize drawings!
Grand Prize Gertens Garden Center…$150 gift certificate. I'm sure everyone knows about this garden center. They have everything and anything you would like for your pond and yard.
Stone and Steel Design…$100 gift certificate. This is the company that engraves the stones we have given to outstanding volunteers. Use your certificate to engrave a stone or garden art or other items with whatever type of lettering/design you wish.
Unique garden art by MWGS member Mike Frattalone. Mike is a fantastic welding artist. He makes wonderful art for your yard and has made several pieces for our picnics in the past.   Everyone is always excited to get some of his work.
Fish…$50 gift certificate. As we all know, Marty grows the best pond fish in town and you can pick from any of the fish Marty has. You don't have to use your gift certificate the day of the picnic; you can save it until you need it.
Cook Water Farms…$75 gift certificate. Mac Cook grows most of the water plants sold in Minnesota and I'm sure you'll find something you will love at his shop in White Bear Lake.
The Pond Co…$50 gift certificate. The Pond Co in Bloomington has all types of pond supplies and equipment to keep your pond running at its best. They also sell fish and plants.
MWGS Renewal certificate. With this, you will get a certificate to renew your membership dues for one year when they become due. This is worth $35.
Classy Threads…$25 gift certificate. Classy Threads is where we get our merchandise with the MWGS logo: T shirts, caps, sweatshirts, etc. You will surely find something you will like in their extensive catalog.